Pet Portraits
Custom Pet Portraits From your Photos.
22x24
capture those quite very day moments or those special award winning days.......
Children's Portraits
Created on acid free "Canson" pastel paper to assure the life of your artwork. Pet Portraits from your favorite photos.
I would love to discuss your ideas and thoughts of size and pose. All of my pet portraits and my people portraits are painted using photographs provided by my clients for reference.
Good photographs are essential to create a good portrait! Send me your best shots (several are recommended). I can print out clear emailed photo attachments if the resolution is high enough 200dpi ( at least 1 mg or more) or use your original and mail them to me I will return when finished..

Candid shots often make very nice portraits of both people and pets! I like to see a variety of photos, with at least one showing your subjects true hair and eye color and/or skin tone. I work primarily from one main photo for the pose, choose one which best portrays the character and personality of your loved one. Photos taken outdoors or in daylight without flash are best. Flash tends to wash out color and diminish form. Also shooting down on a pet or child distorts the subject get eye level with the subject if possible If you are in question of the quality of your photos, send them to me and I will let you know if I can work from them, however most good photos have potential! All of your photos will be returned to you with the finished portrait. Created on acid free "Canson" pastel paper to assure the life of your artwork. Below are a few samples of pets, nature and children.
( Hands, three quarter or full length poses, clothing and/or backgrounds with involved detail will result in additional charges.)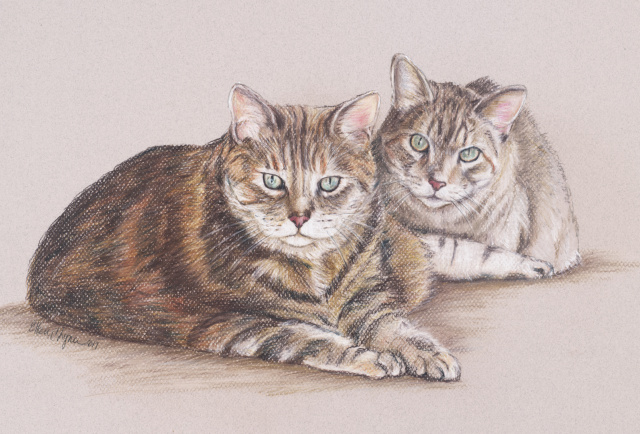 A 33% deposit is required on all portraits before work can commence. I will be send an invoice for a credit card deposit via PayPal, or you will need to send a mailed check or money order. Once I receive your deposit, I will begin the painting.I like to allow up to 4 to 8 weeks for completion (place Holiday orders 8 weeks in advance). When the portrait is done I will email a digital photo for your approval and will make any necessary adjustments. Your satisfaction is guaranteed!

Once you have approved the finished work, full payment is due prior to shipment by PayPal, personal check or money order. Personal checks must clear my account before I can ship your portrait. A 4.225% sales tax is charged where applicable and shipping costs are an additional charge. The portrait and your photos will be shipped UPS Ground and insured. I will email you a shipping confirmation number so that you can track your package.

Portraits are shipped unframed in a tube, protected and enclosed between solid packing materials. Matting is available if you so choose at an additional cost. Also see cost of Matt and framed option for additional fee.
Finished portrait
Client Photo16 x 20
Pricing: The prices for commissioned Pet Portraits are as follows:
Please visit my "Sample Gallery" to see more examples of my work .
( This is the Companies namesake the real Copper Mare Our Mia " Lady Of Rohan ")