Hope Chest/ Blanket Chest
For Living Rooms ,Hallways, Bed Rooms, Mud Rooms or Kitchen
These blanket chests are custom made by a master craftsmen.
Depending on choice of woods and size prices will vary . Please send me an email to let me know your wishes and I can work up a price for you.
The starting price is $1000.00 that would be the chest with one subject on the front panel.
***Shipping not included, add at time of completion depending on location.
Lake View Bench with a family of Shelites
A beautiful accent to any home.


front panel of a chest that was feature on Animal Plant spot during National Dog show from Orlando Fl 2017
Storage for blankets, sweater,or any treasured item in your home.
The Hamilton Blanket Chest
Made of Solid Alder and Birch or Cherry Hardwoods with a cedar bottom interior panel.
Top lid was hand carved and portraits on front panels.
Total Dimensions: 49 3/8"W x 22"D x 20 1/2"H
Inside Dimensions: 46-1/4"W X 16-5/8"H X 18-3/4"D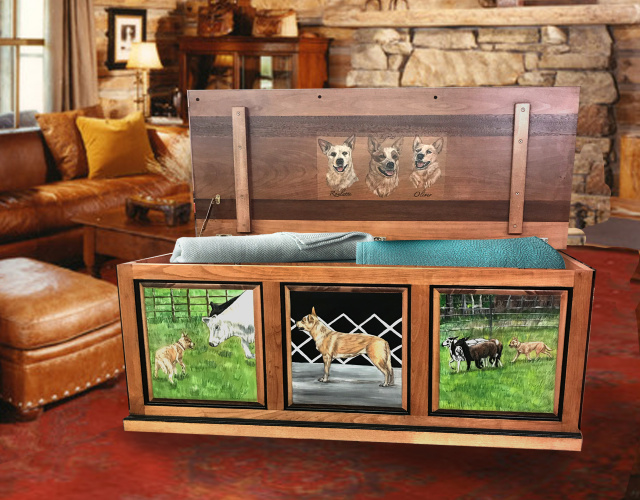 Northwood Storage bench
This versatile Northwoods Solid Pine Storage Bench serves two purposes, storage and seating. Great for entryways or use as a window seat. Includes safety lid support and features attractrive beadboard styling. Crafted from Solid Pine.

Unit Size: 42 1/8"w x 16 1/8"d x 23 1/2"h
Bench height: 17"
Storage Dimensions: 39-3/4" Wide x 14" Deep x 10-3/4" High.
Choose you stain to match your home decor. Let me create a custome work of art from your favorite photo or one that I choose for you. Great for storage in a hallway or mud room. This also is a great piece for a growing child .From toy box to storage. Create a true family heirloom with the northwood storage bench.
Lakeview Blanket Chest
Lake View Storage Bench
Designed with ample storage to hold a variety of items such as toys, blankets and clothes, this multi-purpose chest will be perfect for your home. Features include a reversible aromatic cedar/birch bottom. The lid support hinge provides added safety. Durable construction ensures many years of use, while the alder and birch hardwoods contribute to lasting beauty. Made of Solid Alder and Birch Hardwoods.

34 3/4"w x 18 1/2"d x 18 1/2"h